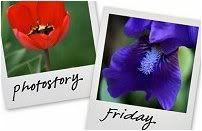 Hosted by Cecily and MamaGeek
Tender moments have a way of sneaking up on you. 
We went to Disneyland last week, and it was a wonderful trip, where memories to last a lifetime were made, but the most moving moment for me came, unexpectedly, as we sat on the shuttle taking us from the rental car agency to LAX, to return home. 
Emma had chosen the seat at the very front of the bus, right next to the driver. She sat there, unaware that I was watching her, with her Disney Princess t-shirt on, and her Disney Princess backpack, wearing her Disney Princess Mickey Mouse ears -- the ones with the tiara and the lacy veil -- and holding tight to her Sleeping Beauty doll, smiling as she looked out the window -- wide-eyed and awaiting the next adventure. 
I began to think of how many of those precious memories this little girl had provided to us. 
To me. 
Dissolve to Emma, feeding her adrenaline addiction on the Indiana Jones ride. Each time she went on hesitantly, and came off with enough energy to power the whole park. 
Fade to wide eyes, dangling feet, open mouth and giddy laughter as she experienced "Soarin' Over California." 
Fade to Emma announcing loudly -- and proudly -- to the entire boat, on Pirates of the Caribbean, that she had kept her eyes open THE WHOLE TIME!!
Fade to Jordan, Emma and myself as we walked, exhaustedly, through the World of Disney store when, out of nowhere, Emma starts beat-boxing, and then rapping "It's a small world" -- complete with dance moves. I honestly have no idea on Earth where she learned to do that.
Fade to Emma, braving the Green Grilling Ghosts of the Haunted Mansion (Grim Grinning Ghosts).
Fade to the little hand within the big hand, holding tight and squeezing tighter, to punctuate her words, as she talks about what's coming next.
Fade to the little girl who hangs her Minnie Mouse sunglasses from the front of her shirt. Just like her dad. 
Dissolve back to me on the airport shuttle, taking my own sunglasses from the front of my shirt, and slipping them on -- not wanting to explain why my eyes are suddenly tearing up. 
She's slipping through my fingers a little more each day, and if she's going to fly, I know I have to let her go. But, as she steps into the spotlight at center stage, I'll happily fade into the wings.
Because I love to watch this show.