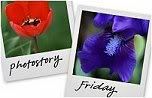 Hosted by Cecily and MamaGeek
A good memory is like a warm blanket. It's like a deposit in a savings account. We hold it in reserve, to draw from when the lean times come.
Or maybe a better metaphor is that a memory is like a piece of fine art. We acquire it -- sometimes at a cost -- and hang it in a beautiful place. We come back to admire it from time to time. And, as the years go by, it's value increases. Some memories are worth more than others.
Memories that involve my wife and children are the most valuable of all.
We've reached a new plateau in the life of our little family -- we are no longer burdened down with strollers and diapers, and we're more free to act spontaneously. This past weekend we picked up and headed to southern Utah, to make some memories.
We hiked and we sweated. We looked up at towering stone, and down from an island two-thousand feet in the sky.
We saw, distinctly, why the Green River is called Green.
We looked out over Martian landscapes.
We climbed all over the "Indiana Jones" arch (also known as Double Arch).
We watched the sun rise through Mesa Arch perched, quite literally, on the very edge of a 1,500 foot cliff.
(One of us walked across the arch, much to the consternation of his wife).
Sunday night, as we sat in the backyard, dusk coming on, the first day of school only hours away, and unwilling to let the weekend slip away, we started talking about our favorite memories of the previous two days.
It turns out it wasn't seeing this:
Or being here:
It was seeing this:
Together.
It was being here:
As a family.
It was Emma, inadvertently keeping me awake on the drive home, as she interpreted the lyrics to Bon Jovi's "It's my life."
("I ain't gonna be just a face in the crowd" became "I ain't gonna feed you the fish in the cloud.")
Forty hours yielded a lifetime of memories.
You know, that's not a bad investment at all.