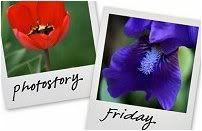 Hosted by Cecily and

MamaGeek
About a year and  half ago, my sister-in-law, Pam (who seems to figure in a lot of these stories), called to tell me that she had booked a wedding for me (to photograph, I was, of course, already married). She volunteered my services because, in her words, "You suck at getting your name out there." Well, there's a reason for that, namely, because I don't have any "services." I mainly just take pictures of my kids. I wasn't necessarily opposed to trying my hand at wedding photography, but the pressure of getting it right is tremendous -- you don't get a second shot at a wedding. People tell me I worry too much. 
Anyway, Pam broke the news to me in February, for a wedding to take place in August  -- So, I had six months to develop a really good ulcer. I decided that what I needed was some practice, so I turned (where else?) to my kids. I thought I'd kill two birds with one stone -- I'd practice some poses and get some pictures of my children all dressed up -- for a change. I rented a tuxedo for my son (sometimes I go to extremes) from a place online, called Gaga's.
Digression Alert!
I had the tuxedo for three weeks for only 19.99, shipping and handling included. If you need to put your son in a tux, for a wedding or just to take some cool pictures, it's a hard price to beat. No, I don't work for Gaga's. 
After shooting for a while, my kids got restless. Emma and Matt don't tolerate posing very long (Jordan, of course, can pose indefinitely, if there is a camera in the vicinity). So, I did one of my favorite things, I sent them to play and then turned the camera on them. Those are always the best shots. These are two of my favorites.