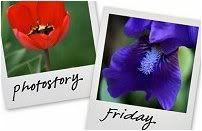 Hosted by Cecily and MamaGeek
Many moons ago, I told you a tale of faith and wonder -- but I only told you two-thirds of the story. 
(I apologize for the recap -- and the repeat pictures --  for those of you who have been here for the whole thing).
Last Spring, before we moved, the home we were living in had a big garden on the side of it. 
We are NOT gardeners.
So our next door neighbor worked the ground. Emma, almost five at the time, was fascinated with the daily process of growing and caring for the garden. She would spend hours walking through the garden with our neighbor -- peppering her with gardening questions.
Saying Emma is inquisitive is like saying the ocean is damp...
One day Emma came to me and asked if she could have some popcorn. I told her we didn't have any popped. No, she wanted the unpopped kernels -- she was going to plant them in the garden. 
I gave her eight little unpopped kernels of Orville Redenbacher's finest, and a pat on the head, and sent her on her way. I gave it not one more thought. Until she came to me several weeks later, and told me, excitedly, to come see her corn (looking back now, I realize that she was always talking about taking care of her corn - watering it and weeding it etc... -- it makes me wonder what else I'm missing). 
I actually put her off for a couple of days, because I didn't want to break her heart when I told her that what she was seeing were weeds.  I was wrong. 
What was growing in the garden was eight little stalks of corn, about three feet high. Much to the surprise of me, my wife, my neighbor -- maybe everyone but Emma and God -- the popcorn was growing. 
I knew you could grow popcorn, I just didn't know you could grow...you know...
popcorn.
Even then, we wondered what the stalks would produce. It turns out, by late summer, they had produced about ten little ears of corn. We "harvested" them, dried them, and then stripped the corn from the cobs. And that's where we pick up the story:
When all was said and done, we ended up with about a cup and a half of very small corn kernels -- they were about half the size of the original seeds. But would they pop? 
Indeed they did.
This story is more emotional for me than I thought it would be. Such simple faith -- coupled with hard work (Emma did all the watering and weeding) produced such amazing results. 
Emma NEVER doubted that her corn would grow. She planted it and cared for it, just like you're supposed to. She expected results. And she got them. 
I am so proud. 

I am considering changing my profile picture, but I'm rather indecisive, so I'm leaving it up to you (the poll is in the top right hand corner of the page)
1. Indiana Jones. I'm a HUGE Indiana Jones fan (I may have mentioned that). This was me last Halloween. A dream come true.
I know, I know...
2. Emma and I, on the Farmington Trail. The picture is blurry, but I love it. Emma is the only one of my kids that still holds my hand when we walk. This is the only picture I keep on my desk at work. 
3. The Guitar. I like to look at this picture and pretend I'm a good guitar player. 
4. Wafers. I love these wafers. I would marry them, but we frown on non-traditional marriage in Utah.
5. The Current Picture. This is Jordan and me (taken by my son, with a little guidance from his father...) You can probably guess why I like this shot. 
If you were here yesterday, you know that I had a sixth picture, but I stupidly forgot to put it on the poll (thanks Corey!). 
Pretend like you're in Illinois.