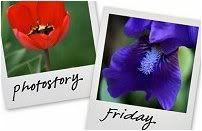 Hosted by Cecily and MamaGeek
Utah is a paradox. The state I live in is the thirteenth largest (in mass) of the fifty states. It's 84,904 square miles of the most dull landscape anywhere, punctuated by small oases of the most spectacular scenery on Earth (really, I suppose that could be said for all of the West). 
This fact was brought home to me again this past weekend, as we made a trip south, to St. George -- about as far from Farmington as you can get, and still be in Utah.  I live in northern Utah, at the foot of the Wasatch Mountains, with the Great Salt Lake to the west. I think it's a very pretty place, but the trip to St. George was so BORING! I love deserts, I think they are simplistically beautiful. But miles and miles (and miles and miles) of sage brush, do not a desert make. The only thing of interest on that 300 mile trip was one small, and seemingly out of place, emu and llama farm. 
But, then there are those other places. The national parks. The places with the amazing names: Delicate Arch, Island in the Sky, Angel's Landing, The Fiery Furnace, Dead Horse Point, Cedar Breaks. These places make you feel small and insignificant at the same time that they overwhelm you with gratitude for the chance to stand in God's footprint.
I find it ironic that all of these places are -- geologically -- in their final death throes. Water and wind and ice have taken these once verdant regions and created grotesquely, magnificent scenes. They are the landscapes of imagination. Who knew that destruction could be so beautiful?
The caribbean  and the tropics are often referred to as paradise, but two of the words most often associated with the West are Heaven and Hell. Sometimes, I think the difference between the two, is nothing more than a matter of intensity.