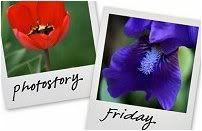 Hosted by Cecily and MamaGeek
A year ago my mother-in-law, Dorrie, was in the last stages of chemo-therapy treatment for breast cancer. The treatment was very hard on her. They say that the greatest risk factors for developing breast cancer are: being female and aging. This was an eye opening experience for me. I have a wife and two daughters. 
 During that time, and in the months since Dorrie began this ordeal, we have acquired a lot of pink ribbons around our house. We joined the Race for the Cure, whose slogan is: Today we fight a bully. 
 We don't fight the bully. They do. The women in the pink shirts, with the hats and the scarves on their heads. We offer support, we do what we can. But each of those brave women, ultimately, face this monster alone. They wouldn't say that, but I will. Seeing the survivor's parade at the Race for the Cure rally was one of the most moving experiences of my life. They are strong. 
 Last August, my mother-in-law got her fondest wish, which was to have all of her family (which have scattered to the winds) in one place at the same time. At that time we numbered twenty-four (we've since added two more) -- thirteen adults and eleven grandkids, and we all came together for a week, in a cabin in the mountains east of Heber City. The reunion took place over Dorrie's birthday.
What you see in the pictures is her birthday present (at least part of it). The older kids were returning from an early morning hike, to show their grandma their new shirts - all of the grandkids wore them that day.