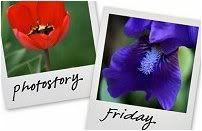 Hosted by Cecily and MamaGeek
I love Disneyland. I always have. I'm a sucker for anything that Walt Disney (the man, not the conglomerate) had a hand in. This past May, we took a trip to Southern California -- a first for my kids. As a kid, Disneyland was a magical place to me, but, as a parent, taking my own children there for the first time, it was even better. As we grow older, cynicism creeps into many areas of our lives. One of the great blessings of having children, is that they are seeing everything for the first time. It's all fresh and new, and that wide-eyed amazement is infectious. California is only two states away from us, but Disneyland is not likely to be a place that we get back to on a regular basis. My kids are still at ages where they can be truly astonished by something, so I wanted this trip to be special. I wanted each of my kids to have
that
moment -- that experience that would burn itself into their memories, and stay with them all their lives. 
For Emma, that was easy. The look on her face, the first time she saw a life size, flesh and blood, Disney Princess, told me that the moment had arrived (the first time she saw a life size, flesh and blood Goofy, was somewhat more traumatic).
Jordan is almost eleven, and not as easily wowed. But, ever the model, she lit up when a large crowd gathered to watch as she sat for a caricature, in New Orleans Square. They "Ooed" and "Awed" and told her how beautiful she was. With Jordan, sometimes that's all it takes. But, for my money, it was Matt who had the coolest experience of them all -- because it was mine too. 
Matthew loves Star Wars, and in Tomorrowland right now, there is an ongoing attraction called "The Jedi Training Academy." Several times each day, a crowd gathers around the stage, and a couple of "Jedi Masters" pull several kids from the audience, dress them in robes, and give them lightsabers, for a little Jedi training.  After the kids have practiced for several minutes, the area is suddenly secured by Stormtroopers, and then who makes an appearance? DARTH VADER! Followed shortly by DARTH MAUL! -- and they look like they just walked off of the movie set. They try to turn the young apprentices to the dark side of the Force, and, finally, it is determined that the only way to settle the issue is for each of the kids to face, either Darth Vader or Darth Maul, in a duel. 
I digress here to say that I was born in 1972. Star Wars
was
my childhood (and not a small chunk of my adulthood, for that matter).
So, Matt fought a lightsaber duel with Darth Maul! That was Matt's moment. When it was all over, the only thing bigger than the smile on his face, was the smile on the face of his father -- who had just lived, vicariously, through Obi-Matt-Kenobi. 
It ended up being a magical moment between my son and me -- one of those rare instances where generations come together. My son really looks nothing like me. We want our children to grow to be independent individuals, with their own ideas and characteristics, but, for that brief moment, it was a thrill to see myself, in the boy standing before me. 
I took hundreds of pictures on this trip. This one of Matthew is my favorite.