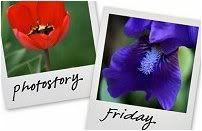 Hosted by Cecily and MamaGeek
Do you remember when you could put black olives on all five of your fingers?
Back then, every day was a new adventure, and dreams weren't just dreams. 
When you looked in the mirror, you liked what you saw. 
Really liked it. 
Your small world was a VERY BIG place, and wonders were everywhere!
Setbacks were just bumps in the road.
You tried again. 
You laughed more than you cried. 
You believed. 
I wish they made bigger black olives.