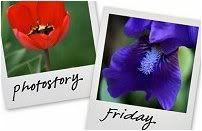 Hosted by Cecily
For another Thanksgiving with my wife. For fifteen years of marriage, with no end in sight.
For my children. For Jordan's artistic eye. For Matthew's gentle soul. For Emma's emma-ness.
For life. For new love (Andrew and Michelle). For family scattered to the four winds -- I wish you were here today. For friends, old and new. For opportunity. For freedom. For the Charlie Brown Thanksgiving Special (but I miss the Dolly Madison commercials).
For a warm home. For words. For turkey and stuffing and chocolate-peanut-butter-pie. For the things which brought joy this year. For the things that taught me harder lessons this year. For beautiful music. For the coming season of light and peace. For the paths that lead us to open doors and for the roads that bring us home.
For a talent which makes people smile.