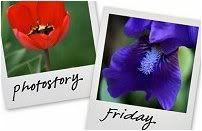 Hosted by Cecily and

Sue




Stars shine their brightest when the sky is at it's darkest.
That's one of those little life lessons that Mother Nature teaches us.
We don't like to think much about the shadows, we think of shadows as something negative, but I'm learning to be thankful for them. Shadows give us dimension, they make us more than a flat, superficial image.
Shadows give us definition, and they hide our imperfections.
The truth is, our lives are framed by shadows. The past and the future are equally shaded.
Shadows are not simply the opposite of light, they're a byproduct of it. It all works together.
What I'm learning is that it's the shadows of life that focus our attention on the light.