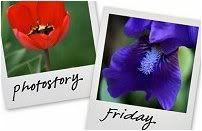 Hosted by Cecily and MamaGeek
I don't know if this post says more about the kind of father I am, or the kind of son Matt is. 
Me: "Matt, go stick your tongue to a metal pole, so I can take a picture of it."
Matt: "Okay."
Actually, I dedicate this Photostory Friday to our favorite expatriate in England,
J the Grockle
, who, after I posted the
Leg Lamp Story
, practically TRIPLE DOG DARED me to take this picture. 
By the way, his tongue didn't actually stick. 
I tried it first -- I'm not THAT kind of dad. 
I hope everyone is having a Merry Christmas!!
I gotta get back to Guitar Hero!