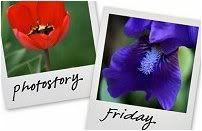 Hosted by Cecily and MamaGeek
This is Emma. She's the youngest of my three kids -- she'll be five in a couple of weeks. I was trying to think of a word to describe her. Her sister, Jordan, is beautiful. Her brother, Matthew, is funny. Emma is cute, maddening, super intelligent, exuberant, moody, dangerous, adorable, volatile, frustrating, stubborn, obnoxious, sweet, mean, devilish, angelic, cuddly, prickly, quotable, one of a kind. Thank goodness.
If Jordan is my model and Matt is my buddy, Emma is my rock star.
It's true what they say - the youngest does get treated differently. Emma is our last, and I am enjoying her immensely. We're leaving behind the diapers and high chairs and sleepless nights. I don't miss those things, but watching my baby girl grow so fast -- she goes to kindergarten this fall -- I pause, and try to hold on. My other kids are older and developing their own interests and I am drifting more into the wings. But, Emma still needs me. She still wants to spend as much time with me as possible. She holds my hand when we walk. She sits with me on the front porch and she sings when I play the guitar. She dances for me on the front grass.
And besides that, she says the funniest things: The other day I was dancing with her, when I took her in my arms and dipped her, giving her my best Pepe le Pew impression. Her response? "Dad, don't hold me like a woman."