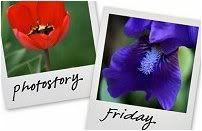 Hosted by Cecily and MamaGeek
My kids are like all kids -- they fight, they argue, they tease, they tell on each other. But sometimes, they get along. And those times are magic. I love to watch them interact. Sometimes I'll stand at the door, just out of sight, and listen to them. Have you ever noticed that kids spend more time making grand plans than they ever do actually carrying them out? My kids will sit on the trampoline, or the front porch, and imagine these fantastic scenarios. In the most recent version, they are all orphans who escape from the orphanage and the evil headmaster (apparently played by yours truly), and they head out into the world, where they perform various heroic feats. Each of them contributes.
 Sometimes I think it would be so entertaining to write down what they are saying. But, other times, I think that the real magic happens because they start all over again each day, with a fresh new idea. Occasionally, I have those moments when I wonder why I didn't opt for a lobotomy instead of children, but, then they go and do something wonderful, and they suck me in all over again.