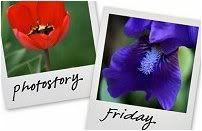 Hosted by Cecily and MamaGeek
My sister-in-law, Pam, pointed me toward this little event, so I thought it only fitting to start with a picture of her kids. Pam had asked me to take some pictures of her children, Noah and Annie, so we were in my basement trying to figure out a way to get some cooperation out of Noah (if ever there were a child with his own agenda, it's Noah), and were just about to give up when I told him to kiss his sister and snapped the picture. Annie (also a little unpredictable) reacted with shock and awe.
This shot was taken on a beautiful summer morning, at Island in the Sky, in Canyonlands National Park. It had rained early that morning, leaving puddles all over the rock (you rarely see puddles in the desert, in August). I had that portion of the park entirely to myself, and it was one of the most beautiful mornings of my life. This is one of the few photographs I have ever taken that turned out exactly the way I thought it would.
My "artistic" phase. I mostly take pictures of people, but my other passion is the piano. My old piano is pretty beat up, but I think the scars give it character.
Jordan. My oldest daughter, and best model. Jordan had just turned eight, and we were taking some pictures of her in her baptismal dress, on a trail by our house. The sun reflected so brilliantly off of that dress. Jordan's innocence and purity are so evident in this picture. I've taken thousands of pictures of Jordan, but this is one of my all time favorites.