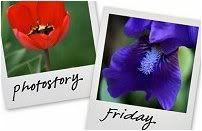 Hosted by Cecily and MamaGeek
The "sepia" phase. My children are my favorite subject. They are the reason I started taking pictures. I rarely take a picture of them directly facing the camera, in fact I take a lot of them walking away from the camera - and it all started with this shot. I had been photographing them on a trail near our home, when I had to stop to reload the camera (there was a time when we still used film in our cameras - it seems so barbaric now), and Jordan and Matthew headed off, hand in hand, down the trail. I quickly loaded and shot this. It may be my personal favorite, of any picture I've ever taken. With the kids not facing the camera and saying cheese, they become part of the entire narrative. The picture becomes a story. 
Also on the trail that day, my then two year old son Matthew, holding hands, and worshipping his mother - from below. She maintains, to this day, that Matt is the most affectionate of our three kids.