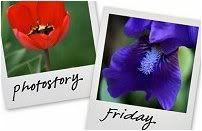 Hosted by Cecily and

MamaGeek
September 7, 1997 was the day I became a father. It was shortly thereafter that I began to take my photography hobby more seriously. I "borrowed" my dad's Canon (I would inherit it, by default, when he passed away, a year and a half later), and began to look at my beautiful new baby girl, through a zoom lens.
 She had the most beautiful eyes I had ever seen. They were her most distinctive and striking feature. They still are. And Jordan has always been so photogenic, that she is, far and away, my most photographed subject in the last eleven years. 
She is a beautiful girl, but it's more than that. She just poses naturally. Cameras do not phase her -- probably because her father has had one attached to his face for most of her life. But, also, Jordan is a very tenderhearted and sweet girl. She'll do anything for you (see her younger brother Matthew for a contrasting point of view), and I think that sweetness comes across in the pictures. In the end, it's hard to hide who we really are, isn't it?
I am so proud of the beautiful young woman that Jordan is growing into, she is spreading her wings. She is more lovely every day.
 How do you hold them close and let them run at the same time? Luckily, for me, Jordan is the most artistically inclined of my children and we have developed a bond, in our love for beautiful things.
 On a recent trip to Moab, I handed the camera over to Jordan. There are no words to describe my pleasure at the results. 
The landscape pictures I've included here were all taken by Jordan.