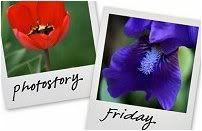 Hosted by Cecily and MamaGeek
Little girls with attitude. I love them. They torment you, they exasperate you, they frustrate you, they infuriate you. And then, when they've driven you to the edge of sanity and reason, they charm you and melt your heart. These two are princesses in every sense of the word: Royal, demanding, entitled, pampered, elegant, intolerant, spoiled and beautiful.
The one in the back, with the ironic smirk, is my daughter, Emma. The one in front is my niece, Abbey, who only condescended to have her picture taken if I agreed to let her wink.
I, being a mere peasant, consented.