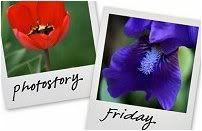 Hosted by Cecily and MamaGeek
Okay, this Photo-Story is more about story than photo. What you are looking at is corn. My five year old daughter Emma's corn, to be exact. Do you know how difficult it is to take an interesting picture of corn? I shot these stalks of corn for an hour. Here's the story: 
There is a large garden on the side of the house that we have been renting. We don't garden. We stopped trying to grow things after we killed a cactus, about fourteen years ago. We'll be happy, if our children survive to adulthood. Anyway, the next door neighbors use the garden, and it has become Emma's favorite hobby, lately, to watch my neighbor garden, and to pepper her with questions for, literally, hours. Emma is a
very
curious little girl. One evening Emma came to me and asked me for some popcorn. I told her that I hadn't popped any in a while. No, she said, she wanted some of the un-popped kernels. Why? To plant them in the garden of course. Sure, why not?
So she planted them, eight little kernels of popcorn, right out of the Orville Redenbacher jar in the cupboard. I gave it no more thought. That is, until she came and told me to come see her corn. I actually put it off for a couple of days, because the garden was a long way from the TV and the NBA Finals. Besides, what was there really to see?
Of course I knew that you could go to the nursery and get popcorn "seeds" and grow popcorn. But, I had no idea you could grow...you know...
popcorn
. Today the stalks are about three feet high, and I can't wait to see what they produce. Emma takes every visitor to our house, back to see them. The only person not shocked and dumbfounded by the situation, is Emma. She knew that if you planted seeds in the ground, they grew.
Sure enough, they did.