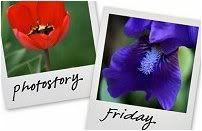 Hosted by Cecily and

MamaGeek
So, I have these two girls. 
I have a boy too, but we're not talking about him today.
Have you ever noticed that boys and girls are different? I know! Stunning huh? Me -- I'm a boy. I always have been. I enjoy it. We eat, we sleep, we break stuff. It's a simple life. 
But girls are complex!
When my wife was pregnant the first time, I knew it was a girl. I
knew
it. I never even entertained the idea that it might turn out to be a boy. I knew it was a girl, and that was where my expertise ended. See, I have no sisters, and I was pretty shy as a kid, so my only frame of reference for women came from television -- Daisy Duke, Lucy Van Pelt, Wonder Woman, Crystal and Alexis. 
Along comes Jordan, and all I know is that I don't know anything. It almost ended before it began. It turns out newborns are a LOT heavier than they look, and I almost dropped Jordan , the first time the nurse handed her to me. But, eventually, they let me take her out of the hospital, with some remark like, "Here's a girl. Good luck."
Six years later we did the same thing (though, by this time, I was much more adept at holding on to newborns).
So, I have two girls, and somedays I just don't get them. They're moody. They're bossy. Jordan thinks she's the "other" mother. Emma, the youngest, can really be quite a tyrant. Everything is SO dramatic. "I'm not playing with so and so, because she hates me. We're enemies." (this was in Kindergarten!), "This girl in my class likes this guy, but he doesn't even know she's alive," "I can't possibly be seen in public in
that
!"
Everything makes them cry. They stomp around the house. They want to be pretty, but they refuse to comb the knots out of their hair. They look at you like you are the
dumbest
thing on earth. They love the color pink, and they love to dress up, but they can't, for the life of them, see the mess that they make, in the middle of their bedroom floor (actually, that would be all of the kids). The world comes to an end about six times a day. For the record, I have no idea where all of this volatility comes from.  Some days I wonder what I did to deserve this.
Then I think about the time that Jordan was four years old, and in ballet, and she made up a little dance to the song "Where are you Christmas?" Unbeknownst to her, I was watching from the other room. It made me cry. And I think about the faith of Emma, when she grew her popcorn. I think about Jordan's sweet spirit, and how she is so patient with Emma, who is so much younger. They color, and they do each other's hair and nails. I think about how Jordan wants to play the piano and take pictures, just like I do. And how pleased she is, when she does both well. And her even greater pleasure when she knows that I think someday, she'll be better than me at both things. And Emma, telling me not to eat red licorice at the beach, because if you stub your toe, and it starts to bleed, and you're drooling, people might think the blood is just licorice juice. And the whispered "I love you's." And soft kisses on the cheek. And a million other things...
And how they both still call me Daddy...
Like I said, what did I do to deserve this?