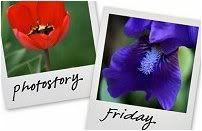 Hosted by Cecily and

MamaGeek
I'm not in the habit of hanging blurry pictures on the wall. And yes, my vision is fine. Some of you may think I'm crazy. That's okay.
I assure you, I am.
This is the story of how a picture went from a mistake, to a piece of art (if I may use that term so boldly), hanging on my living room wall.
While taking family portraits last week, in between shots I (FINALLY!) let my kids loose, to run off some energy, so that, hopefully, they could sit still through a few more shots. I don't mind doing portraits, but, what I love are the candid shots -- the moments.
As I looked up from reviewing pictures, I saw my daughters, skipping down a winding path, among the Autumn leaves. That's a picture I live for. In my mind it was a beautiful and playful image. I lifted the camera and shot quickly. The moment was so fleeting that I was sure I had missed it. Later, while editing, I came across this shot, realized that it was blurry, and moved on.
But, for some reason, I didn't delete it right away. I kept thinking about it, and coming back to it. I began to see it in a different light. It was certainly not the picture I had intended to take, but I found that as I looked again at the image, I saw that the picture I had originally envisioned
was
there -- a colorful, playful shot of my beautiful girls.
When I approached it, not as a failure, but as a thing of worth, I found more than I had seen at first. When I treated it with respect, and as something of value, it became something valuable -- to me anyway. I gave it a chance to put its best foot forward (so to speak), and it showed me things I didn't know were there.
This picture is not the kind that wins awards, and it freaked the poor girl out who processed it, because she thought her machine was broken, but I found that when I treated this picture differently, others began to see it in a different light. They began to admire its good qualities, and to look, with less criticism, at its shortcomings.
There was a lesson here that, for me, went much deeper than admiring the hidden beauty of a blurry picture of my daughters.
I've taken a lot of pictures in the last couple of weeks, many of which I am actually quite pleased with.
This one is my favorite.
ps. Sorry about the sermon.