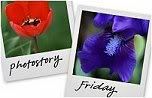 Hosted by Cecily and MamaGeek
She sat on my lap, her big blue eyes wide open and staring intently into my own. And then she laughed.
"When I look in your eyes, I see me!"
Jordan was about three years old at the time, and I had told her what beautiful eyes she had, and she wanted to see what color my eyes were, but what she saw was her own reflection.
I have always been amazed at the profundity of children. They are so untouched by the world, and their perspective is so honest and fresh, and so often when they speak, they say the most amazing things. And then they turn and walk away, and we are left pondering the deeper meanings of their innocent statements.
I've thought about what Jordan said here many times over the years. What greater statement could a father wish for? I see myself in each of my kids.
In Emma, I see myself in her unpredictability, her interest in everything. I see myself in her curiosity, and my wife tells me the attitude and the temper are all me.
I see myself in Matthew's naturally average abilities at sports. We're not great but we're competent. I see myself in his peacemaking (I realize that seems to contradict what I said about attitude and temper -- we're a complicated bunch) he has a profoundly gentle soul.
But with Jordan, I see myself through her eyes. She sees what I see.
That's a hard thing to explain. But she views the world from the same perspective as me.
Jordan is my photographer, and my writer. Jordan is my artist.
She sees the beauty in everything around her, and is touched by it. She loves the experience and satisfaction of creation. She, like her father, is moved by creative instincts.
I know there are some tough days ahead. Jordan, in so many ways, is different than me, and that gap -- somedays -- seems wider than ever. But I'm so grateful that we have this connection. I'm thankful that our common ground is creation and the love of beautiful things.
I hope that when Jordan looks in to my eyes she still sees herself. I hope she also sees the love and pride that I have for my first born.
When I look in her eyes, I see me.