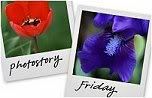 Hosted by Cecily and MamaGeek
Once upon a time, I was the only photographer in the family. I was never in any family pictures, because I was always on the other side of the camera (well, that was one of the reasons...) But, this is no longer the case.
This week is the county fair. I love August, and I've always loved the fair. The fair means that the summer is not over, but it's certainly winding down. The days will get shorter, and cooler. The light in the sky is different in August -- it is a subtly lighter shade of blue. I never think of August without wild anticipation. And the only "obligation" I have in August is the county fair.
(Oh, and college football starts in three weeks -- but that's a different blog...)
Actually, the fair is not an obligation, but I've been submitting pictures for about eight years now, and I don't always (or usually) win big, but I do usually bring home some kind of little ribbon. I have to admit, I get a bigger kick out of eavesdropping on people who are admiring the entries.
Last year, I convinced my daughter Jordan to enter a couple of pictures, and she ended up placing higher than I did (I came in third place, she came in second -- yes we compete in different divisions).
And I've been hearing about it for a year.
This year not only did Jordan enter again, but my sister-in-law
Pam
entered a picture as well. We're taking over! And now, I'm sure you're dying to know the results:
Pam's entry:
3rd place!!!!
My entry #1:
3rd place!!!
My entry #2:
3rd place!
My entry #3:
3rd place.
(I seem to have plateaued)
Jordan's entry #1:
3rd place!! (are you sensing a pattern?)
Jordan's entry #2:
Yes, she smoked me again. And she's pulling away. She actually had the graciousness (or guts, or nerve, or chutzpah) to say to me: "Better luck next year Dad."
I can't decide whether to be impressed or insulted. Especially when her picture bears a
STRIKING
resemblance to my big winner from two years ago:
You be the judge.