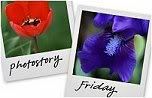 Hosted by Cecily and Chris
"Time is but a stream I go a-fishing in. I drink at it, but while I drink I see the sandy bottom, and detect how shallow it is. It's thin current slides away, but eternity remains.
I would drink deeper; fish the sky, whose bottom is pebbly with stars."
Sometimes Thoreau sends me over the edge, but I love this quote.
This year, 2009, I have assigned myself the project of taking at least one picture per day for the entire year. This seems like a rather simple task unless you add the burden of trying to make your pictures at least marginally interesting.
After the first month or so, I found my inspiration lacking on about six out of every seven days, so I developed certain fallback procedures:
Shoot the flowers in the front yard.
Shoot the weeds at work.
Shoot the kids (I just like to write that sentence).
And my number one rule: Never. EVER. Pass up a beautiful sky.
The sky is an ever changing work of art in the greatest gallery of all. I almost never fail to be inspired when I look up.
We are dreamers, we human beings. And when we dream, we dream vertically. I think it's programmed in our very nature. We use the expression "The sky's the limit" precisely because the sky has no limit. As far as we may venture, there is always a farther destination. Always possibility. Always a place to reach. We wish on the stars and we chase the rainbows.
There is always a beyond.
The sky seems designed to entice us, and to inspire us. A beautiful sky stops you in your tracks, it renews you and uplifts you. It calls on you to climb higher; to leave here and go there.
As Thoreau said, it makes you drink deeper.
This is fishing the sky.
Also, I'd like to thank Cecily for the opportunity to host Photostory Friday with her this week. PSF has been a marvelous creative outlet for me, and I'm honored that you asked.
Thanks, Cec.
p.s. Even though the code box looks blank it really is there when you highlight it. I swear!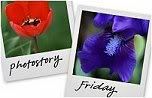 Hosted by Cecily and Chris
To play PhotoStory Friday, check this. Then copy the code below into your post and sign the Our Blurbs Guest List.
<center><font size="-2"><a href="http://whatworksforus.blogspot.com/2007/06/iphone.html" target="_blank" alt="Photostory Friday"><img src="http://i212.photobucket.com/albums/cc50/whatworksforus/pfws.jpg" alt="PhotoStory Friday" border="0"></a><br/>Hosted by <a href="http://mychaosmybliss.blogspot.com/" target="_blank">Cecily</a> and <a href="http://http://tblads.blogspot.com" target="_blank">Chris</a><p/></font></center>