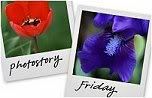 Hosted by Cecily and Sports Mama
I've been standing on my back porch every evening for the last week, watching the patchwork of crimson and goldenrod begin to spread across the mountains above my home.
I feel like I'm breathing again.
For me, Autumn is contemplation. It's reflection and introspection. The beauty of the early Fall is so overpowering to the senses, that each year it seems like a new phenomenon. I was born in the Autumn, and I feel reborn each year. I suppose it's strange to feel renewal in a season of decay and oldness, but I wouldn't have to look far to find someone who would acknowledge that I'm a little strange.
Watching the landscape go out in a blaze of glory, ignites my creative impulses. I write more in the Fall. I take better pictures in the Fall. I play the piano more. In the Autumn, I feel more like the person that I'm supposed to be.
Autumn redeems me.