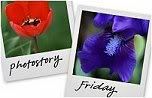 Hosted by Cecily and Izzy 'N Emmy
I was not this child.
I was meek, unassuming, and timid. I was not an adrenaline junkie. I was not a thrill seeker. I was perfectly happy to watch life from the sidelines.
Which is not to say that I did.
My best friend, Aaron, was the perfect compliment to me growing up. He brought the adventure, I brought the sanity. He was the reason we had fun, I was the reason we survived to tell about it. Yin and Yang.
I'm different as an adult. To say I live on the edge would be...well...a lie, but I don't shy away from thrilling experiences anymore.
When my first two kids came along, they were -- and still are -- just like I was as a child. Timid, cautious, careful.
But this one:
You say you'd like to make our country energy independent? Just hook the cables up to Emma, light up North America, and sell the excess energy to some other poor country.
Emma is perpetual motion. I don't think she's quite old enough to understand this yet, but adrenaline lights her up like a roman candle. She thrills to the thrills of life.
Emma has gone on more big amusement park rides at a far earlier age than the other kids -- or her father at that age, for that matter. In fact, when Emma decides to tackle a new ride, sometimes she'll ask "Where is the scariest place to sit on this ride?"
And then she sits there.
When I stopped and thought about it, I realized what a great way that is to live your life. If you face your biggest fear first, nothing else that comes afterward is as hard to deal with.
Why is this any different for a six year old than it is for a thirty-six year old?