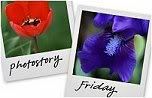 Hosted by Cecily and Lolli
How do I tell you about my daughter Jordan, who turned twelve this week?
I've been sitting here for nearly an hour, staring at a blank page. Starting, thinking and starting over. Words fail me.
How do I tell you that Jordan is my favorite subject to photograph?
How do I tell you that Jordan is grace and elegance, like her mother?
How do I tell you that Jordan radiates beauty from her core?
How can I help you to see that aging doesn't really bother me (I've come to terms -- mostly -- with what I am, and what I am not), but watching Jordan grow up -- more than my other children -- is emotionally conflicting for me?
How can I explain the odd, but powerful combination of quiet pride, and melancholy I feel as I watch her step -- sometimes with caution, sometimes with certainty -- into womanhood?
How do I describe the fear of knowing that I have to let go of her hand, and the confidence I have that she can make good decisions?
How can I tell you that sometimes the stunning young woman standing before me seems light years from the beautiful little blonde girl, with the big blue eyes, I once carried in my arms, but when I see those eyes through my lens, I'm as hypnotized as I ever was?
How can I long for her to stay as she is, when I know she wants to be more?
How do I let her fly without letting her go?
How do I let Jordan know that I'm okay with her growing up?
Because I am.
Except that I'm not.