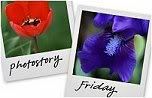 Hosted by Cecily and Carissa
It's been one of those weeks.
You know the kind. Every negative seems magnified, every day seems endless.
I won't bore you with the details, let's just say I've spent a lot of time worrying about things that really are not worth worrying about.
I've mentioned before that Thoreau can drive me up a wall, but the problem is sometimes he just explains things so darn succinctly:
"The cost of a thing is the amount of what I will call life, which is required to be exchanged for it, immediately or in the long run."
This week I've exchanged far more life on certain things than they were worth.
But...
After I took some ibuprofen, and brought my blood pressure back down, I found plenty of things that are worth every breath of my life:
This:
This:
This:
And, of course, this: