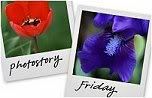 Hosted by Cecily and Angie
Emma is my straight shooter.
Emma is all about results.
For instance: when cleaning her room (after all the whining, and stalling; when she accepts the unalterable reality that she WILL be cleaning her room) Emma does a much quicker and better job than her older brother and sister. She understands that results are what matter.
Another instance: when she's upset with her older brother, Emma knows just where to kick him to get the best results. She sees no reason for preliminary ritual, she solves the problem, and moves on.
(We're working on this problem, and hopefully we have it conquered and we'll be able to carry on the family name through my one, and only, son. Incidentally Emma would have a simple solution too -- just tell Matt to stop making her mad. Problem solved).
My other children are passive. They absorb life, and go with the flow. Emma chases life down, kicks it where she'll get the best results, takes it's lunch money, and follows it home to ask its mother for a cookie.
As you can guess, she speaks her mind, blunt and to the point -- no matter who she's talking to:
Sunday was my 37th birthday, and that evening I was laying on Emma's bed with her, trying to figure out how old I would be, when she turned 37 (my basic math is going with my age)...
Me: Let's see Emma, when you turn thirty-seven, I'll be...........
(Actually 68, thank you very much!)