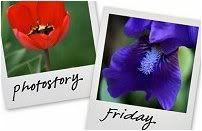 Hosted by Cecily and

Kelli
Life is funny sometimes, isn't it?
And by "funny" I mean twisted and outrageous and very decidedly NOT funny.
Actually, that's not what I mean at all -- because life is sweet and beautiful and stunning and so amazing that it leaves you breathless.
Hmmmm.....maybe it's both.
Life is hard and soft, and it's hot and cold. Life is the light and it is the darkness. Life, like photography, is all about contrast. It's about how the light shines on us and where the shadows fall. Contrast is the texture of our lives.
I lost my job this week. Well, to be precise, I will no longer have a job after next week. I don't know what I'm going to do. I've had a headache for days. I worry about all the things you imagine I would -- income, insurance, my mortgage, the lack of jobs, my lack of employable skills, and on and on. It threatens to engulf me in the shadows....but it happened this week.
In Utah, this is the most beautiful week of the year. This is the week that Autumn is in full bloom. The scarlet and the lemon, the rust and the green, blaze down the mountain sides and into the valleys, like a patchwork quilt of magnificent decay. The weather is still warm enough to stroll through the neighborhoods in a light jacket, and the leaves have not yet fallen from the trees. This year the colors seem more vibrant than normal, and the light of the afternoon Autumn sun warms my face and penetrates through the darkness.
The contrast of these two events puts my life into perspective. The very existence of shadows is evidence of the strength of the light.