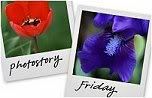 Hosted by Cecily and Linds
Once upon a time there was a photographer who was supremely confident in his abilities. He had been shooting a picture a day for the entire year, and felt he had really captured some great images.
Along came Photostory Friday, and he found that he had no story. Undaunted, he pressed forward, certain that just browsing through his photo files would yield idea after idea. In fact, he was so confident that he would be successful in this endeavor that he set his screen saver to slide show and vowed -- before the entire Universe -- that he would take the tenth picture that appeared, and write a story about it.
Ummmm.....
This is a really close up shot of a 7-up can.
Ummmm.....
The end.
(After writing this story, the photographer noticed that he currently has 10, 786 photos in iPhoto. He decided that it's time for a little declutterization.)