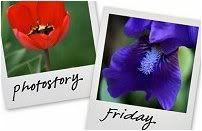 Hosted by Cecily and

Honey Mommy




I shot a wedding for the daughter of some friends last Saturday. It was a beautiful experience.
I've seen a lot of life and a lot of love, through the lens of my camera -- parents and children, brothers and sisters, smiles and kisses and embraces. My favorite though, are brides and grooms. There is so much light and energy that radiates from a newly married couple, they renew everything and everyone around them.
Happiness is beautiful.
As I focused on the faces of Nikell and Barry Saturday morning, I was touched to watch them interact. They had eyes only for each other -- if I didn't ask them to look my way, they were lost in each other's eyes. There was no snow. There was no cold. There were not several dozen people watching their every move.
In all the world, there were only the two of them.
I thought of all that they don't yet know.
They don't know the daily difficulties of making a marriage work -- even a great one.
They don't know the awkwardness of their first argument -- or the relief of resolving that first disagreement.
They don't know the depth of love and emotion that comes from bringing children into the world.
They don't know that the love they feel on their wedding day will pale in comparison to the love they feel in fifteen -- or fifty -- years.
But they do know that they have each other. They know that the love each sees in the eyes of the other is real, and lasting. They know that the path they are on is the right one. They know that what they don't know, they will learn together.
And, for now, that's all they need to know.