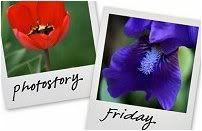 Hosted by Cecily and

Rachael
It all started with a small bird house and a hand painted wooden Santa.
On our first Christmas, back in 1994, Sharon and I gave each other a Christmas ornament. We were living in a small studio apartment in Cedar City, and trying to establish our own Christmas traditions. The next year we did it again -- and then every year since.
When Jordan was born we decided we would continue the tradition -- a new Christmas ornament each year.
They are more than just Christmas ornaments, each one is symbolic of our lives in the preceding year.
As I lay underneath the soft lights of the Christmas tree the other night, I did the math: fifteen years of marriage, and three kids equals sixty-three ornaments (which is assuming that we've only done one ornament each and every year. Which we have not). On a seven foot tree that doesn't leave much room for anything else. I realized this year that we no longer have any generic ornaments on our tree.
Every ornament was a gift.
Each one is a story.
Our Christmas tree has become the storybook of our lives.
As I walked around the tree, I was lost in the memories.
There were our Disneyland ornaments, from our trip this year.
There was the little angel that I bought for our second Christmas, because I thought it looked like Sharon.
There was the somber silver ball, with the date we would never forget.
There was the star engraved with the date of our tenth anniversary.
There was Indiana Jones, Darth Maul, Batman, Dora, Bear in the Big Blue House, Dracula, Frankenstein, The Mummy, Wizard of Oz characters, nutcrackers, Santas -- trust me, it all comes together.
The story that our tree tells is one of love and adventure, of heartbreak and redemption, of joy and innocence and heritage. It's the story of our family.