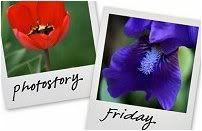 Hosted by Cecily and MamaGeek
Along the trail to Spectra Point, at Cedar Breaks National Monument, stands a tree -- a bristlecone pine. It's not a beautiful tree -- at least not by traditional standards. Beautiful trees have large palm fronds, and symmetrical shapes, and broad leaves, that burn fiery red, in the late seasons of the year. Bristlecones have very little foliage, and no symmetry. They are twisted and gnarled. Life is hard on bristlecone pines; they live where they have no business living. At 10,000 feet, the air is thin and the soil is terrible. But, adversity makes you strong. This tree is a survivor. This tree is 1600 years old. 
As I ran my hands over the ancient, grey surface, I thought about the history that has passed on this earth, during it's lifetime, and I wondered what it could teach me. The tree was born during the fall of the Roman Empire, but, it couldn't tell me about politics. It is older than Islam and just younger than the Emperor Constantine, but, it could not teach me about religion. It is just a tree, after all. 
But, what it could teach me about was life. And longevity. And fortitude. And strength. And character. You can't always change the circumstances of your life, but you always have complete control over your response to those situations. You play the hand you are dealt. 
There is a young, Silver Maple tree in my backyard. Eventually, it may grow to be a big, beautiful tree -- if it survives the violent winds that blow out of the canyons, east of our home. 
Silver Maples have notoriously shallow root systems. But this lonely, bristlecone pine has burrowed its massive roots deep into the rocky cliff, on which it stands, and no force has shaken it, in sixteen centuries. 
Your life is what you make of it. 
That's the wisdom of the ancients.