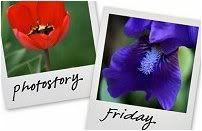 Hosted by Cecily and MamaGeek
A couple of months ago, I posted the story of my daughter Emma's popcorn. For those who weren't around then, here's a brief run down: My five year old daughter, Emma, caught the gardening bug (she did not catch this from either myself or her mother), and spent hours watching our neighbor in the big garden next to the house we were living in at the time. One day she came to me and asked for some popcorn, to which I replied that we didn't have any popped, at the time. 
No, she wanted the unpopped kernels, so that she could plant them in the garden. So I gave her eight little kernels of Orville Redenbacher's finest, and promptly forgot about it. But Emma didn't forget. She watered and weeded the little patch of ground that the neighbor had given her, and one day came to me and told me that her corn was getting big, and that I should come and see. Well, eventually she pestered me enough that I did go to see, wondering how I was going to break it to her that what she was seeing was weeds, not corn. You can't just plant Mr. Redenbacher in the ground and expect it to grow. Right? 
To my surprise, there were eight little stalks of corn, about a foot high, growing right where she planted them. I was flabbergasted. Emma was not. What had happened, was just what she had expected to happen. The first two pictures here are from that day (and also from the first post).
Over the summer we moved from that house, but not so far that we couldn't go back and check on the corn, now and then. The stalks eventually reached a height of about eight feet. This past weekend we harvested them -- if you can call plucking the ears off of eight stalks of corn, harvesting. Some of them are already drying, in the hope that the final chapter of this story will be a nice big bowl of popcorn for Emma. 
I am pleased on so many levels with this little incident. I am pleased that Emma gets to enjoy the fruits of her labor. I am pleased that she was so diligent in caring for her corn. And, I'm grateful for this lesson of simple faith, that I learned from my five year old gardener.