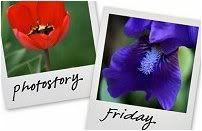 Hosted by Cecily and MamaGeek
These pictures are of my daughter at the Healing Field. The Healing Field was begun by a flag company, here in Utah, following the tragedy of September 11, 2001. It has now spread around the nation, and the world. The concept of the Healing Field, was originally to display a field of  American Flags, with the names of each victim of the terrorist attacks. One flag for each victim. The idea has now grown to include a flag for each member of the armed services, killed in the war on terror. It is a poignant and sobering experience to walk through row upon row upon row of American flags, and to contemplate the price of liberty. If you get a chance to experience a Healing Field, do it. 
When the attacks of September 11 took place, I began, immediately, to collect all the newspapers and magazines and other sources that documented those first few days. I knew we were in the midst of one of those experiences that a generation never forgets. But, I also knew that over time perceptions would change about the day, and I wanted to remember what it was like at that very moment. I keep these items in a box, that I have not opened for several years now. That night, after I finally turned off the television, and put the kids to bed, I couldn't sleep. So I went to the computer, and started to write. I came across this in my box of articles yesterday. It is my first impressions of the day. Some of it turned out to be inaccurate, but it was interesting to see this first snapshot:
The skies tonight are quiet. They belong to the clouds and the birds and the stars. There are no aircraft anywhere in the skies above America tonight. All flights have been grounded indefinitely, because of a horrendous act of terrorism perpetrated upon the United States of America this morning.
At about 6:45 this morning, a passenger plane crashed into one of the Twin Towers of the World Trade Center, in New York City. Twenty minutes later, another plane crashed into the other tower. Within an hour, both towers had fallen. A third plane crashed into the Pentagon in Washington D.C., and a fourth went down in a Pennsylvania field. It was determined that each plane was hijacked in a coordinated terrorist attack. It is thought that the plane in Pennsylvania may have been heading for the White House, or another D.C. target. Two men were arrested, in New York City, with a truck full of explosives, possibly intending to blow up the George Washington Bridge. 
America suffered a tremendous blow today, and the nation, and the world are reeling. I do not know exactly how to feel. My emotions have run the entire spectrum. From grief and anger at the senseless violence, to pride, at the way volunteers appeared, almost instantaneously, to offer assistance where they could. I have been to the point of tears many times today, for many reasons. 
How do we cope with such a tragedy? How do we go on in the face of terror? Can we recover? I think the answer to the last question is an emphatic YES! Terrorism's greatest strength is fear, but fear can be managed. Terrorism gains strength, from the immobilization of it's victims. By submitting to fear, we give the perpetrators a victory. America is not a nation driven by fear. There is a reason that terrorism does not, and will not, succeed in America. Instead of cowering and falling into chaos and anarchy, Americans react, by coming together. 
Today we are shocked. Tomorrow we will begin to pick up the pieces, and to rebuild our cities. And our lives. Rather than divide us, national tragedy makes us all the more aware of who we are. We are Americans. Whether we live in New York, Washington D.C. or Salt Lake City, at these times, we are more conscious of our connections to one another, as citizens of the United States of America. Such events do not destroy us; they galvanize us into one nation. A nation, with the capacity to cope with such heinous acts, and to rise above them, as the bright, shining star of freedom in the world. 
Perhaps then, it is appropriate tonight that the skies are silent and empty, so as not to detract from the star of freedom and liberty. In the words of Thomas Paine, "These are the times that try men's souls." 
In the next few days, we will see many acts of heroism, because that is what America is: A nation of heroes. 
Never forget this day.