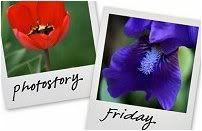 Hosted by Cecily and MamaGeek
It's Autumn and I am pumped! This is, hands down, my favorite time of year. I once saw a statistic that stated that autumn moves down the slope of a mountain at a rate of about 200 feet per day. I don't know if that is accurate or not, but I have been watching the mountains above my house for several weeks now, and it's almost fully colored.  It's almost to my house! My belly button has been puckering and unpuckering, with excitement, for days now.
Fall is college football and the fragrance of decaying leaves. It's warm days and cool nights. It's subdued light and Ichabod Crane. 
It is the unbearably, breathtakingly, beautiful time of the year. Fall is when Nature performs the show, she has been preparing for all year -- an extravaganza of cranberry and rust, goldenrod and pumpkin orange. I have never been to New England in the fall (I've never been to New England at all, for that matter) but that is my dream vacation. I love living where we have all four seasons, and, truthfully, I really enjoy all of them. But I get tired of the heat of summer, and I weary of the cold and dreariness of winter, but I never tire of Autumn.
It is so beautiful, that it overloads my memory, and overpowers my senses and I forget, from year to year just how stunning the Fall is -- so it comes as a nice serendipitous surprise every September.
Well...that was a little more rapturous than I had intended, but ...in the words of Ramses...
So let it be written. So let it be done.