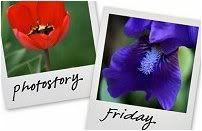 Hosted by Cecily and MamaGeek
All the photos I'm posting today, I have posted before, but that's okay -- sometimes it's about the photo, and sometimes it's about the story. 
It's been a year -- a year and a week, actually. It was Friday, June 6, 2008 when the first Photostory Friday was posted (well, to be honest, even then most of us were posting on Thursday evenings). I had gotten an email from my sister-in-law,
Pam
, about this photo/blog event coming up, co-hosted by her friend, Cecily. 
"This might be fun," she said. 
A year later, and I've only missed one week (blasted Disneyland vacation!). Photostory Friday has become part of my weekly routine, and I wanted to take the chance here to express my gratitude to our hosts --
Mamageek
and
Cecily
, for this weekly event. I don't know why you began Photostory Friday, I suppose it probably wasn't with the intention of changing the world, but I want you to know that it has changed my little corner of the globe.
I've been able to take another look at some of my old photos, and remember why I love them .
I think more about the pictures that I take. I see stories, where I once saw only images.
I'm less inclined to throw out any image without taking a second look at it. Often I find something that speaks to me, just below the surface. It was just waiting for me to listen. 
I look closer at the world around me. There is beauty in the most unexpected places.
Many of my posts have been about my kids. I think more broadly and deeply about my relationship with them. That is a real blessing. 
I've also met some wonderful people in the past year, through Photostory Friday. So many of you have left so many kind and thoughtful comments here. And beyond that, when my world came crashing down in January, when my wife was diagnosed with cancer, you, my friends, were so supportive. That meant the world to me. I'm so grateful to know each of you (you know, in that anonymous blogging kind of way :p  -- Cecily, Pam is coming to town in July for a month or so -- maybe it's finally time to get those kids together!)
So, to you Mamageek, and to you Cecily, and to all the rest of you, I say thank you.