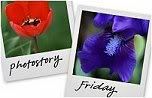 Hosted by Cecily and MamaGeek
We get season passes, each year, to Lagoon -- an amusement park, a few miles from our home. We usually go over for a couple of hours on Monday nights, in the Summer. This past Monday evening, my two older kids and I were in the line for the Sky Ride -- a ski-lift type ride, that transports you from one end of the park to the other. And that's where we pick up our story:
The gondolas only carry two people, and as we approached the head of the line, my kids began to argue over who got to sit with me. 
Let me rephrase that.
They began arguing over who HAD to sit with me. 
(They did this right in front of me, as though I wasn't there at all).
Matt likes to ride alone, for the "adventure" of it, but Jordan rarely takes a stand on anything. And while she didn't come right out and say how her life would be "like ruined!" if she sat with me, it was obvious that she REALLY wanted to ride alone. 
So, I let her go. 
As Matthew and I rose in to air, in the car behind Jordan, everything came into focus. You see, the Sky Ride goes both ways across the park.
And, boys ride it too.
In the course of  the five minute ride, no fewer than four boys had something to say to my daughter (one said that the imaginary friend, sitting next to him, thought she was hot). 
So my ego was somewhat soothed, but not completely. 
I got even, by informing the randy, little cretins that I was her father (Matt thought we should make violent gestures too, but I thought that might get me arrested). They went from salivating wolves to sheepish puppies, pretty fast.
That was fun. 
I suppose I cramped Jordan's style, but even though she looks sixteen, she's still only ELEVEN!
Sheesh!
I guess it's time to invest in that shotgun.