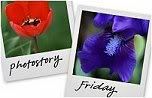 Hosted by Cecily and MamaGeek
I take a lot of pictures of people. If I had my choice, I would take all of my pictures from a hiding place.
It's not really that I'm shy, but I am fascinated by the human experience. The way we interact with one another. The things we do when we're alone.
The things we do, when we THINK we're alone.
Even portraits are better, when you can get the subject to drop their inhibitions (I know what you just thought, and no, I don't take
those
kind of pictures) and forget that there is a camera pointed at them.
The camera, in any form, changes reality. We become self conscious. If we're going to be immortalized -- and that's just a what a picture is -- we want to present our best side. Or, better than our best if possible.
I enjoy shooting pictures of all kinds -- portraits, landscapes, artsy stuff -- but I live for the moments.
The stories.
The unfiltered, uncontaminated, unaffected living of life.