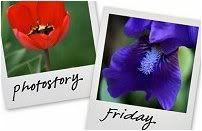 Hosted by Cecily and MamaGeek
There is nothing in the world like a kiss.
A kiss can just light you up. 
The kiss is the most intimate and personal form of human contact.
I remember, clearly, the first time I kissed my wife. It was after our second date, in the dorms of Southern Utah University. I asked her permission -- I was more chivalrous back then. 
That kiss was electric, I felt it to my toes. That kiss was light and life to me, it was hope and promise. It was acceptance and desire. 
Cloud nine? Cloud nine was so far below me that it made me dizzy to look down. 
My pictures are often driven by emotion and a search for life, and that's why I love to photograph kisses. 
They are almost always big and dramatic.
Kids rarely peck lightly on the cheek. 
And I always love the response of both the kisser and the kissed.
The tenderness of unconditional love. 
A mother's kiss is a prayer and a blessing. 
The thrill and energy of brides and grooms. 
I LOVE this moment -- right before their lips touch (can you see the sparks?)
And this moment: Everything is possible. 
Now get out of here, and go light someone up with a kiss!