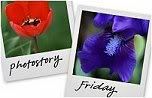 Hosted by Cecily and MamaGeek
This is Delicate Arch.
When I look at this Arch, I don't think delicate. I think fragile.
Even though it's huge, Delicate Arch conveys a sense of vulnerability -- as though it could be gone tomorrow. As though it teeters on the edge of existence.
In fact, it does.
As sturdy as you would imagine a giant, stone arch to be, by tomorrow it could be a pile of rubble. Or it could stand for thousands of more years. Arches National Park in recent years (including last summer), has lost two major arches, both of which seemed sturdier than Delicate Arch. It's all a matter of where the seismic hit comes from, and how hard the impact is.
Everything changes in an instant.

My wife has diabetes. I am relatively healthy. For almost fifteen years, I have lived with the idea that there was a good chance I would out live her. But we can see the diabetes, and she takes care of it, and so far has avoided major problems. She has stayed on top of the diabetes, because we know the dangers. We're also still young (okay, we're in our mid-thirties) and we think about life and death.
But, not really.


Then along comes cancer. Unknown. Undetected. Suddenly it's there, and it's the biggest, scariest thing in the world. I won't go into all the details again here, but I'll tell you, it rocked me to the core.
But, it looks like we've been given a second chance. We're feeling very good about where things go from here. I've come to face, and understand many things, one of which is: Life is fragile. One seismic shift changes everything. The difference between life and death is a breath.
2009 was going to be the year that I learned to put first things first. But so was 2008. Now everything is different. We've only got one shot at this.
Stop preparing to live your life, and just live it.