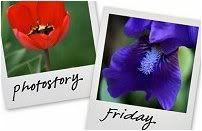 Hosted by Cecily and MamaGeek
For Christmas, when I was in the seventh grade, my Grandmother gave me a guitar. Up to that point in my life, I had no interest in anything musical (other than the radio, and that doesn't count). The next year I took a semester of guitar lessons -- the only formal musical education I've ever had. I learned three chords, and that, until you develop calloused fingertips, it hurts to play a steel string guitar. And that's about it. 
In the twenty or so years since that time, I have been trying, with varying degrees of success, to teach myself to play this instrument. I am not a great guitar player, by any stretch of the imagination, but I've always wanted to play the guitar. Girls dig guitar players. 
I'm in a philosophical mood tonight, so I'm going to tell you the three things I've learned, from trying to play the guitar. 
I've learned that talent is not enough, usually you have to work.
God gives each of us many abilities, but I view talent as potential, behind a locked door. Work is the key to open that door. When you took piano lessons, it was called practicing. I come from a musical family, but for many years I believed that that gene had skipped a generation. Then one day, on impulse, I bought a piano (the same way we bought our house -- aren't we shrewd shoppers?). I thought I should teach myself to play (I would not recommend this method to most people) and I did. I am, by no means, a virtuoso of any kind, but the piano came very easily to me, and I discovered that I had a knack for playing by ear. This turned out to be a fluke. I thought that since the piano had been such a breeze, that surely I could master the guitar. 
Not so. 
I've been trying to play now for twenty years, and only when I practice regularly, and with real intent, do I progress at all.
I've learned that quality matters. 

Doing something just right -- craftsmanship that gets it right, no matter the time or the cost, has always been high on my list of human virtues (if not on my list of accomplishments). I've owned several guitars over the years, from pawn shops to online stores, and from everywhere in between. Each instrument has cost more than the one before it. Each has also been a higher quality instrument than its predecessor. It's quite amazing how much better a sub-average guitar player sounds on a well made instrument. 
I've learned the need for constant tuning. 
Unlike a piano, a guitar should be tuned each time it is played. All the plucking and picking and playing, and even sitting idle, causes the instrument to go out of tune. Usually (unless you have kids) it will only go out of tune by almost imperceptible degrees. But, left unchecked, over time the notes become too sharp, or too flat, and one day you find that you're no longer making music.
You're just making noise. 
But, daily attention, and minor adjustments, keep the instrument in tune, and sounding beautiful. 
A voice way back in the cluttered recesses of my mind is telling me that I should apply these lessons elsewhere. 
Life is funny. 
I never learned much from my guitar instructor, but the guitar itself turned out to be a pretty good teacher.