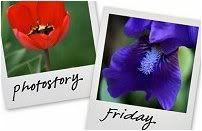 Hosted by Cecily and MamaGeek
We got Guitar Hero for Christmas. We all have a great time playing it -- except Emma. 
Emma doesn't play. She rocks. 
She dances. She bangs her head. She jumps up and down. She sticks her tongue out. 
Emma is five. 
Emma is our little free spirit. She meets life on her own terms. There is no guessing where you stand with Emma. She will tell you. She's as blunt as a sledge hammer, and as sharp as a sword.
She sings, loudly and often -- and most loudly while sitting on the toilet. There is always a soundtrack running through our home -- from "Livin' on  a Prayer" and "Eye of the Tiger," to her most current obsession -- the soundtrack to Mama Mia. There is a constant chant (from the bathroom, mostly) "Soo pah pah, Troo pah pah."
One of my greatest fears, as a parent, is that I won't be able to help Emma channel her will and personality into a rewarding and productive life. It's a never ending struggle between reeling in and letting go. 
Often I get the urge to clip her wings and try to keep her grounded. But it passes -- some spirits are uncontainable. 
Keep on rockin' my little Freebird!