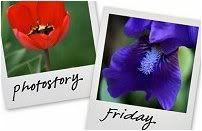 Hosted by Cecily and MamaGeek
WARNING!! This post contains a rated PG word!
It's January. It's cold outside. The snow is grey. I just washed my brand new, leather wallet. I have to register my Bronco, and the windshield is cracked and the check engine light is on.
It's times like these when I reflect on happier circumstances. Last year, one of the happiest times for us was our trip to Disneyland. At Disneyland, our kids engaged in one of the great California sports: Autograph collecting. It took a little coaxing for Emma (to you and I, Mickey Mouse is a beloved character -- to a not-quite-five-year-old, he's a six foot rat), but eventually she came around, and participated fully in the sport. 
There was Mickey Mouse, Minnie, Pluto, Goofy, Jack Sparrow, Winnie the Pooh, and of course all of the Princesses. At one point we came upon a flock of children (or is that a gaggle?) surrounding Alice (of Wonderland fame). She was singing and dancing and signing autograph books, for the adoring masses, when suddenly, who should burst upon the scene? The Queen of Hearts! 
The kids scattered like someone had dropped a grenade -- they were diving through windows, climbing up the front of their parents, running like mad for Fantasyland.  
Except Matthew. 
My son stepped forward, took the Queen by the hand and kissed it -- thereby winning her approval AND her autograph -- the only one in that crowd to do so. 
But that's not why I love this picture. I love this shot because it (inadvertently) caught the expression on Emma's face. This was the same look on the face of every kid in that crowd (except Matt), and describes perfectly what each one was thinking:
WHAT.
THE. 
HELL. 
IS. 
THAT?!?