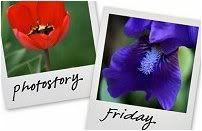 Hosted by Cecily and MamaGeek
My resolution for this year is to share more, and in that spirit, I'm about to share with you my fantastic recipe for homemade pancakes -- from scratch!

At our house, I am the breakfast guy, and I make three things -- Pancakes, Waffles and French Toast. 
And bacon. 
I've been working out this pancake recipe for years. You see, the most important thing about pancakes, the thing you must never forget, the thing that will make your pancake cooking a success is consistency -- by which I mean, the consistency of the batter. It makes all the difference -- therefore you must be precise in your preparations. 
This is a basic recipe, to which you can add anything you want (blueberries, raspberries, bacon,  --  dirt from the floor if you want to), but you must follow these directions first. 
Get your mixing bowl -- one with a pouring spout, preferably. 
Get your electric griddle (this is not absolutely essential, but it is your best bet for even cooking) -- turn it to at least 400 degrees. 
Crack two large eggs into the bowl. 
Add exactly 1 3/4 cups of 2% milk. 
Add exactly 1/4 cup of vegetable oil. 
Using a good metal whisk, stir until it becomes nice and frothy.
Here is the MOST important part:
Add 1 3/4 cups of flour 
BUT
You have to do it my way, which is: Take a 1/4 cup measuring cup, and pack it full of flour -- seven times. 
I KNOW, you're not supposed to pack flour -- we're living on the edge people!
Add 4 teaspoons of baking powder.
BUT
Once again -- my way: (one tablespoon equals three teaspoons -- roughly). Put in a tablespoon of baking powder, followed by a teaspoon of baking powder. Trust me. 
Add two tablespoons of sugar -- but it HAS to be sugar grown on the south side of the farthest Hawaiian island to the west, and harvested in the month of September. On an even numbered day. 
Just kidding -- any sugar will do. 
Add one half teaspoon of salt. But it has to be...that's only funny once. 
Now Mix like the wind!
Mix (with your good metal whisk) until all of the BIG lumps are gone. The little lumps will cook out. 
You batter is now perfect. Take a picture of it.
Then let the pouring begin. Pour carefully, using a rubber scraper to help guide the batter into perfect round pancakes -- about 3.5 inches in diameter (any bigger and you risk spraining your wrist).
Let the pancakes cook until edges are beginning to dry and the bubbles on top begin to pop. Turn them over -- crust should be golden brown. Cook for about another minute.
Remove from griddle. 
Eat. 
Enjoy. 
Makes about 15 pancakes. 
Happy New Year!! 
And don't say I never gave you anything.