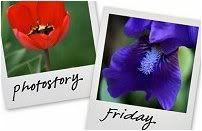 Hosted by Cecily and MamaGeek
I was going to show you a picture of the fist size, bluish blob that has been wreaking havoc through our lives this week. 
But, I changed my mind.
Instead, I will tell you about joy.
Joy is not the same thing as happiness. It is a deeper and broader emotion. We feel joy like we feel sunlight, or softly falling rain. It surrounds us, and envelops us. It's effects linger, long after the cause has passed on.
Catastrophic events have a way of focusing our attention, of stripping away the non-essentials -- the things we thought were so important. So much that we thought we couldn't live without, suddenly seems superfluous, and meaningless. This past week has done that for me. 
I've been thinking about the things I can't live without. The things that truly bring me joy. The list is pretty small. 
I find joy in friends. I have always made friends easily, and I'm grateful for that. Friends get you through, when you have nothing left. 
I find joy in the beautiful things of the world, whether it's music, or art, or words or pictures --or the works of God's hand. I think beauty comes from within, from the soul -- each soul, and is left behind on the things that our lives come in contact with. 
But, mostly, I find joy in this little group.
They are my inspiration. 
They are my hope. 
They are my life. 
They are my greatest joy.