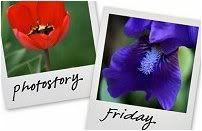 Hosted by Cecily and MamaGeek
Killing two birds with one stone here:
I was tagged with a photo meme by
Terri 
-- the retiree who sees the world in her own way, (does anyone know what meme means?). It is the infamous fifth photo from the fifth file (that's pretty good alliteration). So I decided to use the results as my Photostory this week, as I haven't had much time to think of anything else.
Here goes:
Sunrise. Mesa Arch. Canyonlands National Park.
The air is thin and crisp.
The dawn blazes across the eastern sky. 
Valleys of shadow are illuminated.
Stones are on fire. 
And suddenly, you just know, that this is the time. 
You have been granted a few moments in which to take beautiful pictures. 
A quick update on my wife:
Sharon had surgery today, and the tumor in her stomach was removed. In order to do so, they had to do a gastric bypass, and remove about 1/3 of her stomach. 
She's in a lot of pain right now, and probably will be for a couple of days, and will likely remain at the Huntsman Cancer Institute for about four days. 
Thank God for the Hunstman Cancer Institute.
The surgeon believes he got everything, and saw no sign of spreading. She should make a full recovery. 
I want to again thank each and everyone of you who have asked, and thought and prayed for my wife and our little family. You have made such a difference and been such a blessing in our lives. 
I thank you with all of my heart.