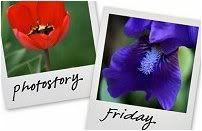 Hosted by Cecily and MamaGeek
No philosophy this week, nothing deep. Just an odd obsession.
Have you ever found yourself inexplicably attracted to something?
I know, that's quite a question to ask two days before Valentine's Day. Go ahead and insert your own "signifiant other" joke here:
When we bought our house, about six months ago, it came with an old wooden fence around the yard. It's decrepit. It's weather beaten. It's falling apart. It will most decidedly NOT keep out the barbarian hordes. 
But, I love it. 
And I can't even say why. I think I feel sorry for it. 
I think it has character.
Every time I look out into the back yard, I smile at the fence. It's not going to last much longer, and eventually it will be replaced with a "better" fence -- and I guess that's just the way things go.