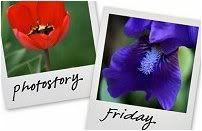 Hosted by Cecily and MamaGeek
This is Emma. 
You've met her before. She's going on six, and she thinks I know everything. At least that's what she told my wife the other day (she also said she thinks I'm kind of weird, but let's stay on topic).
Where she got this notion that I know everything is beyond me. Frankly, I feel I demonstrate my vast stupidity on a regular basis. 
When I was a kid, I always knew there would be someone to come along and fix any problem and answer any question. Someone who knew everything. Rarely was I ever proven wrong. Someone -- usually my parents -- always knew everything. 
Now I am that person. Now I am responsible. I am the one they look to, to fix the problems and answer the questions. To know everything.
Inadequate doesn't scratch the surface. 
Unless you need a picture taken, I would prefer someone else take the reigns. But it doesn't work that way. 
My other kids are entering that "fun" tween stage. In their eyes, I just get dumber most days. I can sympathize with this point of view. It's easier to live with. 
But, let's get back to Emma -- she's smarter than all of the rest of us anyway. There is something empowering in looking in to those eyes and seeing confidence -- in herself and in me. 
If God is in the details, Emma will be there to greet Him upon arrival.
NOTHING
escapes her attention. Except, it seems, my glaring flaws. I must assume she simply chooses to overlook them. 
You know, if I were more like Emma...
p.s. In the interest of full disclosure, I do
NOT
, in fact, know everything.