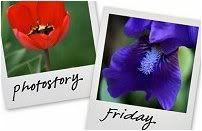 Hosted by Cecily and MamaGeek
Remember Summer?
The 100 degree days...trying to sleep when the central air malfunctions...the muggy, stifling afternoons...the sticky, smelly asphalt...the endless yard work...the allergies...the wishing for winter?
Yeah, me either. 
I believe that the human memory is equipped with  some kind of anesthetic that helps us, if not completely, to forget the pain of uncomfortable experiences. This is, I suspect, why we continue to have more children.
When I think of Summer, I remember dusk, on the midway of our local amusement park -- when all the lights come on. 
I remember evenings when it's still light when I get home from work, and there's time to play catch in the back yard. 
I remember Sunday afternoon walks through the neighborhood.
I remember green grass and flowers and trees and mountain streams. 
I remember July nights on the back porch, as we watch rockets paint the sky with a kaleidoscope of fire.
So what does this water drop have to do with Summer?
It snowed last night, but by this morning it was melting. 
That's a good sign.